Robert F. Kraemer Legacy Society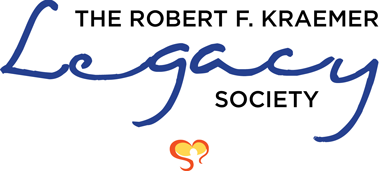 Established in 2016, the Robert F. Kraemer Society honors Mr. Kraemer's dedication to Springbrook's mission, and his lifetime of quiet compassion and commitment. Members of the Kraemer Legacy Society believe, as Mr. Kraemer did, in the power of possibility—the possibility of a world where, with patience, support, and time, every person can reach his or her true potential. Membership in the Society is conferred upon individuals who have committed to the long-term future of Springbrook through a legacy or endowment gift.
The Benefits of Membership
When you establish your legacy gift or endowment, you join a select group of individuals who have expressed an enduring commitment to Springbrook. As such, you are invited to exclusive gatherings throughout the year, including the annual Kraemer Society Luncheon. You will also receive a certificate, membership pin, and commemorative mason "savings" jar recognizing your belief in the power of potential. Above all, you will have the certainty of knowing that your gift will continue to enhance Springbrook's tradition of excellence while providing for the future.
Please Join Us
Springbrook encourages you to help build upon our accomplishments through membership in the Kraemer Legacy Society. If you have included Springbrook in your plans or created an endowment for its support, you qualify for membership. Please join us by making a gift to Springbrook through your:
Or through other legacy gifts such as:
The Power of Potential
Mr. Robert F. Kraemer, a barber from Esperance, NY, was a dedicated Springbrook supporter, making regular gifts to the Annual Fund for years during his lifetime—his way of showing support for Springbrook's principles of compassion, independence, and possibility. In his younger years, Mr. Kraemer had been a custodian at IBM and while there he chose to purchase shares of the company's stock—his way of showing his pride in his work and the positive impact that IBM had on surrounding community. It was that same motivation to make a positive change in the community that lead Mr. Kraemer to give week-after-week to his church which supported Springbrook (then Upstate Baptist Home for Children and Adults). Even after his church closed, Mr. Kraemer continued his annual gifts to Springbrook. When he passed away in 2005, Mr. Robert F. Kraemer, barber and former custodian, left Springbrook what is still one of our largest gifts to date, a $2 million trust. Rather than sell his IBM stock during his lifetime—for personal use or for charitable contributions—Mr. Kraemer saw the potential, the possibility of what he could do with patience and time. He reinvested all of his stock dividends year-after-year, planned ahead, and placed the portfolio into a living trust. The proceeds from Mr. Kraemer's trust have been used to expand our School program with specialized services to children with autism and have allowed Springbrook the flexibility to grow in ways that would not otherwise have been possible.
"A man has made at least a start on discovering the meaning of human life when he plants shade trees under which he knows full well he will never sit."

— Elton Trueblood

As I share these words with you, I feel I am talking to a friend and partner – one whose sense of stewardship for the future has led you to consider a legacy gift to Springbrook.
I hope to soon be able to welcome you to the Kraemer Legacy Society, whose members are esteemed at Springbrook not only for their powerful generosity but also for their vision and commitment. It is a special person indeed who is motivated to care so deeply and personally about the future of our organization.
As you consider a legacy gift, we can help you explore the many ways you can meet your personal planning objectives while also achieving your charitable goals for Springbrook.
Sincerely,
Patricia E. Kennedy
CEO, Springbrook